| | |
| --- | --- |
| CadyTech home | Dumas home |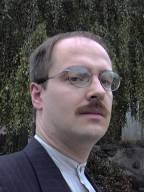 C. Conrad Cady
228-222-2877
conrad@cadytech.com
(longer version available)
Lead Software Architect
Inflection, Redwood Shores 2/08 - present
Directed design and construction of "web-scale" public web sites to ethically search and manage public information such as addresses, phones, and emails. Designed e-commerce infrastructure to manage the finances of these sites. Sites include PeopleSmart.com and Archives.com.
Managing Partner
The Enticy Group, LLC, Oakland 5/98 - present
Aon Corp. : Designed and built WAF, a database-driven, web and client/server application development tool for use by application developers.
ABN-AMRO Inc. : Designed and built custom web application development tool for use by bank application developers.
THAP!: Designed and built THAPTrak! an "Internet database application that integrates benefits, absence, medical care, and productivity data in a single data warehouse for real-time and retrospective analysis, reporting, and action."
Director of Data Technology
RelayHealth Corporation, Alameda 2/99 - 8/01
Directed design and construction of a high-volume, scalable public web site to bring together physicians and their patients.
Consultant
CadyTech, Castro Valley 10/96 - present
Informetric Systems: Designed and built front-end processing portion of PRISM/RQMS, a custom Visual Basic application used in paper mills.
Terrace Consulting: Client/server and web-based application development using IIS, Oracle, Microsoft SQL Server, and Gupta SQLWindows.
Envision Software: Developed custom database applications in SQLWindows.
Vice President, Consulting Services and Application Development
Terrace Consulting, San Francisco 10/93 - 10/96
Hired as a consultant and moved up in a company which grew from five to eighteen people. Led development of WinBroker, a successful commercial wholesale insurance vertical market application. Managed team of four people in design, development, testing, and installation of Gupta SQLWindows and Microsoft SQL Server applications.
Managed and was technical lead for many successful consulting engagements in health care (Paradigm Health Corporation), financial services (Robertson Stephens & Co.), insurance (Swett & Crawford, Marsh & McLennan, Stewart Smith) and container leasing (Matson Leasing, Xtra International) using tools such as Oracle, SQL Server, Visual Basic, and SQLWindows.
Helped develop Threshold, a commercial object-oriented class library in SQLWindows.
Ran training services division and taught classes in SQLWindows and object-oriented programming.
Contactez-nous/Contact Us